By: Shriram Shanmugham, Founder – Credait.com – The People Empowerment Platform
Reading time: 2 minutes

Disclaimer: The list of subject expertise and supers skills are based on the number of high frequency searches executed by recruiters. This does not imply that every search executed resulted in job placements. The following data merely serves as an indicator for career trends in specific industry/services
The Healthcare industry encompasses the following sub-industries / sub-profession:
Ayurvedic Care
Biomedical
Biotechnology
Consultation
Counselling
Customer Service
Dentistry
Hospitals & Clinics
Insurance
Life Science
Medical Administration
Medical Assistance, Medical Support Services
Medical Research, Healthcare Research
Nursing
Nursing Administration
Nursing Research
Pharmaceutical
Pharmacy
Physical Exercise, Fitness
Public Health
Rehabilitation & Therapeutics
Sports Medicine
Veterinary Care, Animal Health
Retail
Top 10 Healthcare Subject Expertise and Super Skills in demand
Most of the profession in the healthcare sector is service based in India. Table 1 below discloses these requirements:
Top Requirements for Healthcare Jobs in India

Top 10 Subject Expertise

Top 10 Super Skills

Pharmacology

Sales

Nursing

Sales Promotion

Medical Equipment

Technical Writing

Nutrition & Wellness

Documentation

Biomedical Engineering

Business Development

Biotechnology

Data Analysis

Medical Informatics

Consulting

Basic Sciences

Market Research

Ayurveda

Analytic Skills

Physiotherapy

Decision Making

Source: Credait.com
Table 1: Top 10 subject expertise & super skills in the Healthcare profession
Top 10 cities in India for Healthcare Jobs
Table 2 below discloses the top cities in India with high demand in Healthcare jobs.
City

Avg. searches per day

Delhi/Noida/Gurgaon

471

Bengaluru

428

Chennai

386

Hyderabad

329

Mumbai

324

Pune

258

Kolkata

203

Ahmedabad

140

Coimbatore

114

Cochin

85

Source: Credait.com
Table 2: Top 10 Cities in India for Healthcare Jobs
The percentage break – up of Healthcare jobs city wise is depicted in Figure 1 below: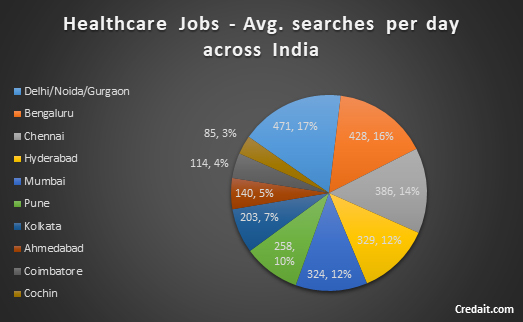 Figure 1: Average search and percentage breakup of Healthcare jobs in India
Conclusion
As already mentioned, majority of healthcare based profession are in the services sector in India, the only exception being contract manufacturers for pharmaceutical drugs and basic surgical equipment from small to medium enterprises. The biggest employers of healthcare professionals are in the hospitals & clinics space. Super specialities in healthcare fields – outside of hospitals & clinics – such as biotechnology / biomedical engineering and other sciences are in high demand at market research & consulting firms.
Credait.com is a people empowerment platform for specialized careers. Register in Credait.com for your dream career in Healthcare to find you by empowering your super skills & subject expertise