By: Shriram Shanmugham, Founder – Credait.com – The People Empowerment Platform
Reading time: 2 minutes
Disclaimer: The list of subject expertise and supers skills are based on the number of high frequency searches executed by recruiters. This does not imply that every search executed resulted in job placements. The following data merely serves as an indicator for career trends in specific industry/services
It is common for people to assume that jobs in Accounting and Banking, Financial Services & Insurance (BFSI) sectors have crossovers. The reality is otherwise. The Accounting sector caters to all industries, and in the past couple of decades, it has created enough specialties that is worthy of forming its own industry. For example, the prominent sectors within Accounting include:
• Financial Auditing
• Financial Accounting
• Fund Accounting
• Management Accounting
• Tax Accounting
• Business Valuation Services
• Start-up Valuation Services
• Company Secretary Services
Top 10 Subject Expertise and Super Skills in demand
The rise in demand for accounting professionals also brought the requirement of unique subject expertise and super skills. Table 1 below discloses such unique requirements:
Requirements for Accounting Jobs in India

Top 10 Subject Expertise

Top 10 Super Skills

Bookkeeping
Strategic Planning
Statistics
Business Analysis
Business Valuation
Financial Planning
Stock Valuation
Financial Reporting
Mutual Funds
Investment Management
Capital Management
Credit Management
Debt Securities
Decision Making
Business Mathematics
Budget Management
Credit Risk
Brokerage
Foreign Direct Investment

Cash Management

Source: Credait.com
Table 1: Top 10 subject expertise & super skills in the accounting profession
Top 10 cities in India for Accounting Jobs
Table 2 below discloses the top cities in India with high demand in accounting jobs.
Top 10 Cities for Accounting Jobs in India

City

Avg. searches per day

Delhi/Noida/Gurgaon
587
Bengaluru
391
Mumbai
377
Chennai
302
Kolkata
260
Pune
181
Hyderabad
156
Ahmedabad
124
Jaipur
95
Chandigarh
53

Source: Credait.com
Table 2: Top 10 Cities in India for Accounting Jobs
The percentage break – up of accounting jobs city wise is depicted in Figure 1 below: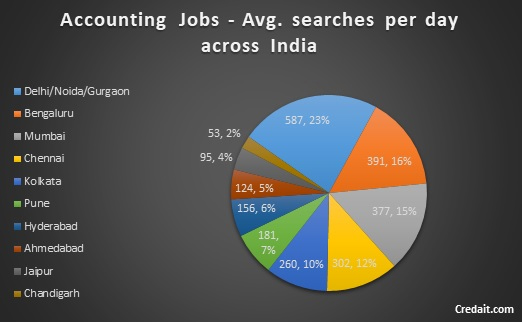 Figure 1: Average search and percentage breakup of accounting jobs in India
Conclusion
There has been a steep demand in accounting sector all across India within the last decade, given the slew of Company Act Rules mandated by the Government of India since 2013. Combine this with the introduction of LLP company registrations and business friendly policies for start-ups and Micro, Small to Medium Enterprises (MSME), it is no surprise that the demand for accounting professionals have increased in the last ten years. Investment companies are also hiring accounting professionals as industry analysts, given the latter's skills in analytic thinking and financial planning.
Credait.com is a people empowerment platform for specialized careers. Register in Credait.com for your dream career in accounting to find you by empowering your super skills & subject expertise